Thursday and last night I played with a blues band called Pork Chop and the Leftovers at a new bar called Helenbak. Typical roadhouse, I think it was called Duffy's when I last played there 4 or 5 years ago.
Thursday night was a jam so I used the Mapex Meridian Birch kit I got off of FB Marketplace so my new STS drums wouldn't be subjected to potential misuse. The stage is big with a short drum riser that is also spacious so last night I set up the full Session Kit with the full cymbal set up. I can't express the jolt I get playing those drums. Listening back to the Zoom recording I am totally knocked out by these Session Studio Select drums. Un-be-lieve-able! Seriously, I have no words.
At age 65 (now 67) there's no guarantee you're going to wake up tomorrow so I thought if my new kit was going to be my last what would it be? Perhaps a throwback to my my first which came out of the Sears & Roebuck Catalog in 1965? It was red sparkle and although it carried no brand name, no badge of any kind, the underside of the hi-hat footboard read, "Pearl Drum Company LTD Japan", my introduction to Pearl Drums. Who the frig were they? Nobody I knew ever heard of them.
I loved the Session Classic series and could have gotten an even more affordable close-out but I wanted to see what the Session Select series was all about. It's a different sounding Session series than the Classic or even my vintage Prestige Session drums. I can't imagine another set of drums I'd rather be playing at this point in time. If this is a sappy fan letter to Pearl Drums in their 75th year than so-be-it, happy anniversary!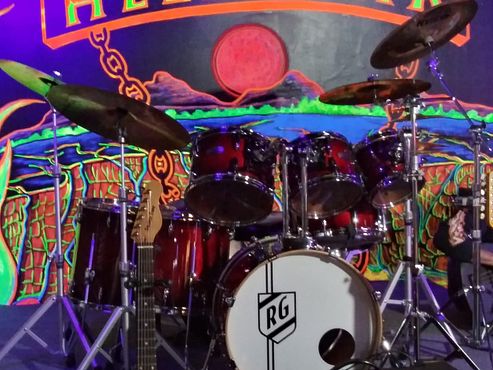 The first and last outdoor band rehearsal of The Undertakers, summer of 1966. Three of five of us in the back row with some neighborhood kids.