Collected from Andertons in Guildford, England (UK) on Wednesday the 14th of November 2018.
Other than the photo from directly above, the kit is shown with a 2015 14"x6.5" Ludwig Black Beauty with tube lugs and a retrofitted P88AC throw-off and butt plate rather than the accompanying snare drum.
I tried to insert the photos into the post but for whatever reason it wouldn't let me so I've attached them.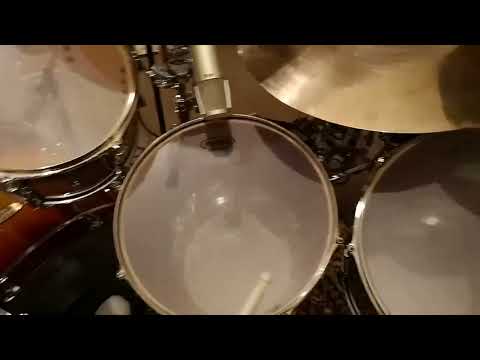 22"x17" bass drum
- 8-ply, 10mm shell
- Four inner plies of mahogany
- Two central plies of birch
- Two outer plies of maple
- Outer 45-degree bearing edges
- 1.5" hoops
- CL-250 lugs
- Standard air vent in standard position*
- Badge nearest batter head
- SP-300 spurs
- CW-300 claws
- Nickel-plated hardware
14"x5.5" snare drum
- 1-ply 7.5mm maple shell
- Outer 45-degree bearing edges
- MasterCast hoops
- STL-100 lugs
- SR-150 throw-off and butt plate
- Standard air vent in standard position*
- Nickel-plated hardware
8"x7" tom
- 6-ply, 5.4mm maple shell
- Rounded 45-degree bearing edges
- FatTone hoops
- CL-100 lugs
- Standard air vent in standard position*
- Aluminium OptiMount
- Nickel-plated hardware
10"x7.5" tom
- 6-ply, 5.4mm maple shell
- Rounded 45-degree bearing edges
- FatTone hoops
- CL-100 lugs
- Standard air vent in standard position*
- Aluminium OptiMount
- Nickel-plated hardware
12"x8" tom
- 6-ply, 5.4mm maple shell
- Rounded 45-degree bearing edges
- FatTone hoops
- CL-100 lugs
- Standard air vent in standard position*
- Aluminium OptiMount
- Nickel-plated hardware
14"x12" tom
- 6-ply, 5.4mm shell
- Two inner plies of mahogany
- Two central plies of birch
- Two outer plies of maple
- Outer 60-degree bearing edges
- FatTone hoops
- CL-100 lugs
- Standard air vent in standard position*
- Aluminium OptiMount
- Nickel-plated hardware
16"x14" tom
- 6-ply, 5.4mm shell
- Two inner plies of mahogany
- Two central plies of birch
- Two outer plies of maple
- Outer 60-degree bearing edges
- FatTone hoops
- CL-100 lugs
- Standard air vent in standard position*
- Aluminium OptiMount
- Nickel-plated hardware
(* I actually requested standard air vents, but in the Golden Ratio positions
)